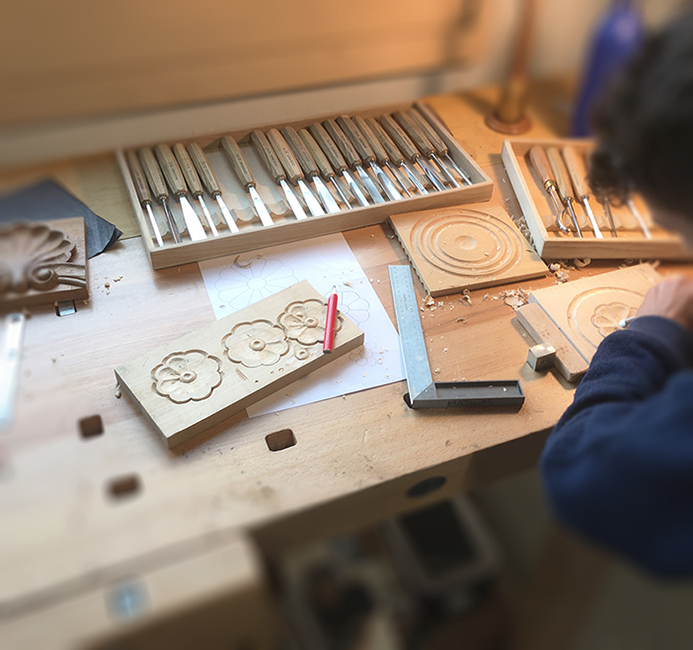 Premier stage & découverte
Sculpture sur bois
La sculpture sur bois vous fascine, le nombre de gouges disposées sur l'établi vous intrigue ? Découvrez pas à pas la technique traditionnelle et ancestrale de la sculpture sur bois.
Présentation des gouges et de l'établi du sculpteur
Divers exercices de base, rosace, fleur, figure géométrique et ornementiste
Le bois : Savoir le lire, le reconnaître et apprendre à toujours le tailler dans le sens du fil
Apprentissage des finitions
Explication et affûtage d'une gouge de sculpteur
Initiation Wood Carving
Are you fascinated by woodcarving and intrigued by the number of gouges on the workbench? Discover step by step the traditional and ancestral technique of woodcarving.
Presentation of the gouges and the sculptor's bench
Various basic exercises, rosette, flower, geometric and ornamental figure
Wood: Know how to read it, recognize it and learn to always carve it in the direction of the grain
Learning how to finish
Explanation and sharpening of a carver's gouge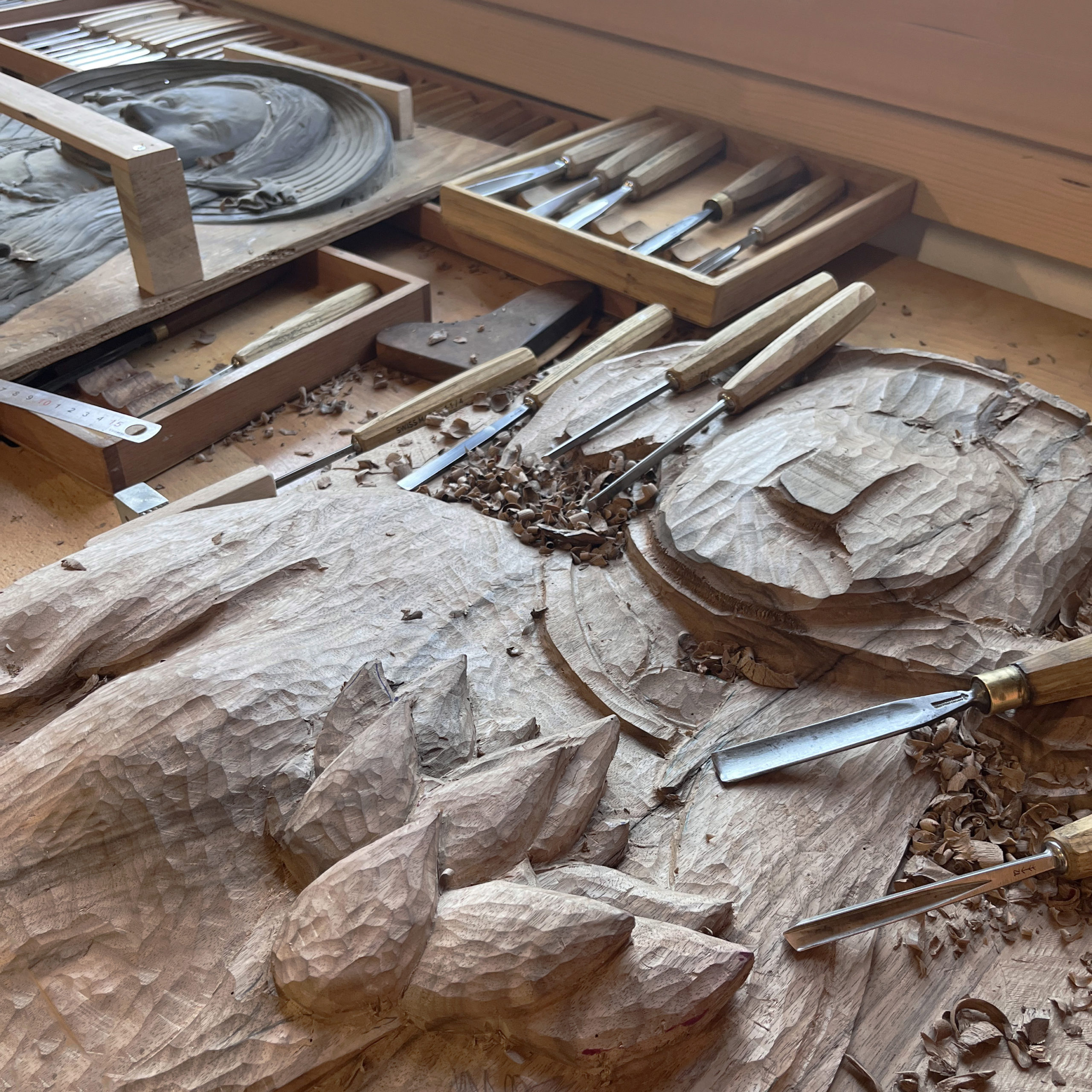 Deuxième stage & perfectionnement
Sculpture sur bois
Vous savez tenir vos gouges correctement, tailler le bois dans le sens du fil. Découvrez les stages de perfectionnement entièrement personnalisables selon votre projet.
Transformer un dessin, une photo en une sculpture
Apprentissage de la sculpture en ronde-bosse (sculpture 3D)
Apprentissage du bois, toujours savoir le caresser dans le sens du fil
Affûtage de gouges complexes
Utilisation des machines pour dégrossir son travail
Advanced Wood Carving
You know how to hold your gouges correctly, carve wood in the direction of the grain. Discover the advanced courses that can be fully customized to your project.
Transform a drawing or a photo into a sculpture
Learning to sculpt in the round (3D sculpture)
Learning to work with wood, always know how to caress it in the direction of the grain
Sharpening of complex gouges
Use of machines to roughen up one's work
Stage demi-journée – Durée 3 heures 30
Stage individuel de 3h30 : 130 CHF
A partir de deux personnes dans le même stage, 115 CHF par personne
___________________________________
Stage journée – Durée 7 heures
Horaire : 8h30 – 12h00 / 13h30 – 17h00
Prix stage individuel de 7h : 230 CHF
A partir de deux personnes dans le même stage, 195 CHF par personne
______________________________________
Formation longue
Formation personnalisée, prix et horaire sur demande.
Pratiquant et enseignant la sculpture traditionnelle sans machine, mais uniquement avec des centaines de gouges différentes, les éléments de protection individuelle ne sont pas nécessaires, mais sont à disposition.
Chaussures fermées hautement recommandées contre les copeaux, mais aussi en cas d'éventuelles chutes d'outils et de morceaux de bois.
Toutes les gouges et le matériel vous seront fournis durant le stage.
Pour le stage d'initiation, le bois est compris dans le prix.
Stage de perfectionnement, selon l'essence et la taille de la pièce, un tarif peut s'appliquer au bois fourni.
 Les stages peuvent également être donnés directement à votre atelier ou dans les centres de formation. Sur demande.
Les horaires sont sur demande.
3 Stagiaires maximum par stage, afin de garantir un apprentissage personnalisé de qualité.
Stages ouverts à tous.
Price / information
Half day course – Duration 3 hours 30 minutes
Individual course of 3h30 : 130 CHF
From two people in the same course, 115 CHF per person
________________
Full day course – Duration 7 hours
Schedule : 8h30 – 12h00 / 13h30 – 17h00
Price for an individual course of 7 hours : 230 CHF
From two people in the same course, 195 CHF per person
________________
Long training
Personalized training, price and schedule on request.
Information
All gouges and equipment will be provided during the workshop.
For the initiation course, the wood is included in the price.
For the advanced course, depending on the species and size of the piece, a fee may apply to the wood provided.
The courses can also be given directly at your workshop or in the training centers. On request.
Schedules are on request.
Maximum of 3 students per course, to guarantee a personalized quality learning experience.
Courses open to all.
Security
Practicing and teaching traditional carving without machines, but only with hundreds of different gouges, personal protective equipment is not necessary, but is available. Closed shoes highly recommended against chips, but also in case of possible falls of tools and pieces of wood.