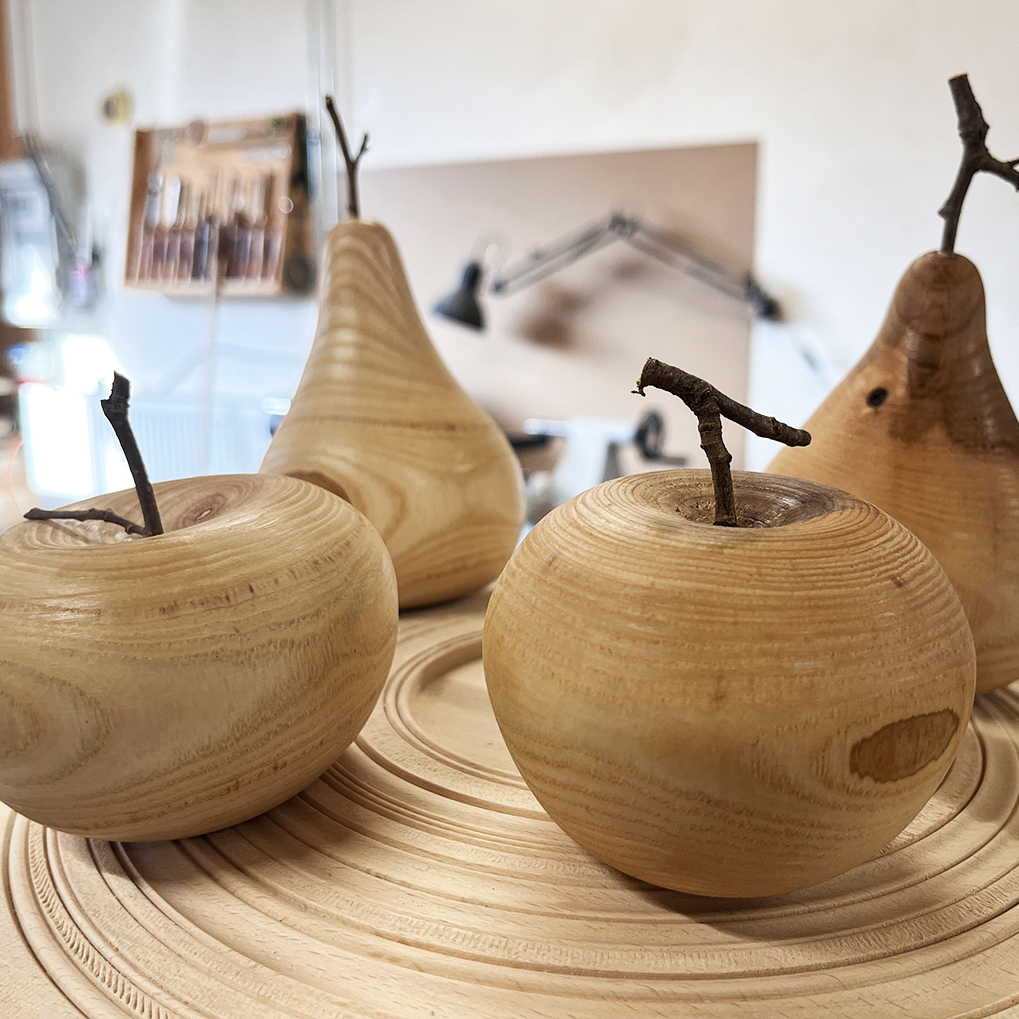 Tournage sur bois
Jamais tourné, ou peu d'expérience ?  Le tournage nécessite l'apprentissage du bon gestuel, qui permet de manier les outils avec confiance afin de pouvoir dérouler le bois de manière harmonieuse.
Présentation du tour à bois, des outils et des divers accessoires
Divers exercices de base : apprentissage de la base du tournage et des bons gestes à adapter : cylindrer une pièce de bois, créer des profils, creusage, travail en bois vert…
La matière : le bois. Savoir l'identifier et l'utiliser
Découverte des diverses finitions et textures pour le bois
Affûtage d'une gouge
Initiation Wood Turning
Never turned, or little experience?  Turning requires learning the right gestures, which allows you to handle the tools with confidence in order to roll the wood in a harmonious way.
Presentation of the wood lathe, tools and various accessories
Various basic exercises: learning the basics of turning and the right gestures to adapt: cylinding a piece of wood, creating profiles, hollowing, working with green wood…
The material: wood. Knowing how to identify and use it
Discovering the various finishes and textures for wood
Sharpening a gouge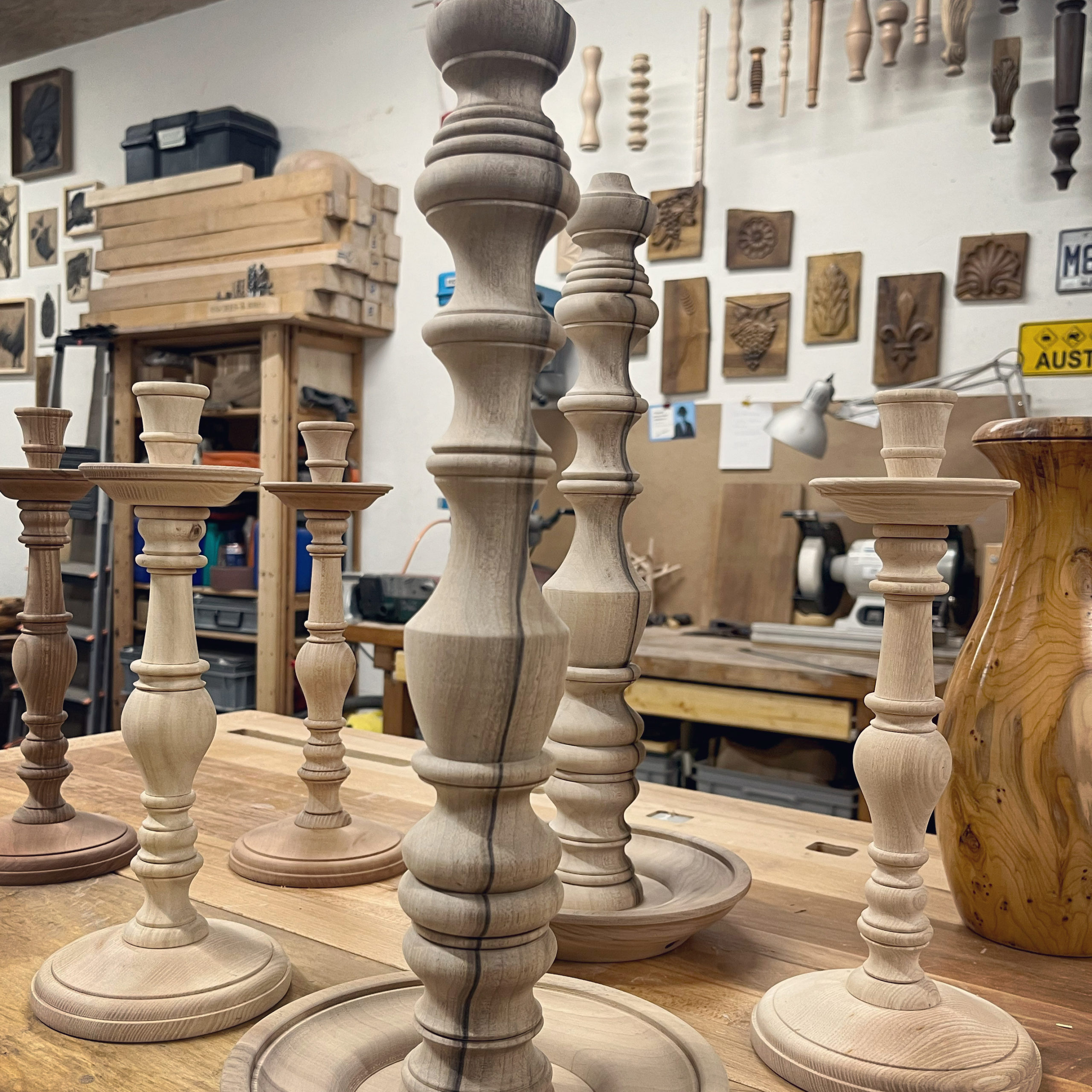 Tournage sur bois
Vous savez déjà tourner ? Venez avec votre projet et je vous aiderai à le réaliser. Apprentissage de toutes techniques : Durant tout stage de perfectionnement, l'apprentissage du bon gestuel sera transmis. Une de mes créations vous inspire pour votre future réalisation ? Venez apprendre et découvrir de nouvelles techniques.
Tournage d'ébénisterie
Tournage translucide en bois vert
Texturage et incrustation : métal & résine
Tournage désaxé et multiaxes
Ornementation
Creusage
Tournage fin, les trembleurs
Advanced woodturning
You already know how to turn? Come with your project and I will help you to realize it. Learning of all techniques: During all the workshops, the learning of the right gestures will be transmitted. One of my creations inspires you for your future realization? Come and learn and discover new techniques.
Turning of woodwork
Translucent turning in green wood
Texturing and inlaying: metal & resin
Offset and multi-axis turning
Ornamentation
Hollowing
Fine turning, the shakers
Stage demi-journée – Durée 3 heures 30
Stage individuel de 3h30 : 130 CHF
A partir de deux personnes dans le même stage, 115 CHF par personne
___________________________________
Stage journée – Durée 7 heures
Horaire : 8h30 – 12h00 / 13h30 – 17h00
Prix stage individuel de 7h : 230 CHF
A partir de deux personnes dans le même stage, 195 CHF par personne
______________________________________
Formation longue
Formation personnalisée, prix et horaire sur demande.
Le tournage sur bois est une activité non dangereuse, mais nécessite une certaine attention et le respect des règles de sécurité.
Durant le stage, les éléments de protection individuelle vous seront fournis : lunettes de protection, visière, casque auditif, blouse de protection et masque pour la poussière.
Vu la grande quantité de copeaux produite, il est recommandé de ne pas porter des habits avec des poches sur la poitrine, des tissus accrochant les copeaux tels que les lainages ou certains tissus texturés. Chaussures fermées hautement recommandées contre les copeaux, mais aussi en cas d'éventuelles chutes d'outils et de morceaux de bois. Attacher les cheveux longs est également recommandé pour éviter tout accident.
Toutes les gouges, les outils et le matériel vous seront fournis durant le stage.
Pour le stage d'initiation, le bois est compris dans le prix.
Stage de perfectionnement, selon l'essence et la taille de la pièce, un tarif peut s'appliquer au bois fourni.
Les stages peuvent également être donnés directement à votre atelier ou dans les centres de formation. Sur demande.
Les horaires sont sur demande.
2 Stagiaires maximum par stage, afin de garantir un apprentissage personnalisé de qualité.
Stages ouverts à tous.
Price / information
Half day course – Duration 3 hours 30 minutes
Individual course of 3h30 : 130 CHF
From two people in the same course, 115 CHF per person
________________
Full day course – Duration 7 hours
Schedule : 8h30 – 12h00 / 13h30 – 17h00
Price for an individual course of 7 hours : 230 CHF
From two people in the same course, 195 CHF per person
________________
Long training
Personalized training, price and schedule on request.
Information
All gouges, tools and materials will be provided during the workshop.
For the initiation course, the wood is included in the price.
For the advanced course, depending on the species and size of the piece, a fee may apply to the wood provided.
The courses can also be given directly at your workshop or in the training centers. On request.
Schedules are on request.
Maximum of 2 students per course, to guarantee a personalized quality learning experience.
Courses open to all.
Security
Woodturning is a non-hazardous activity, but it does require some attention and respect for safety rules. During the course, you will be provided with personal protective equipment such as goggles, visor, ear muffs, protective gown and dust mask. Due to the large amount of chips produced, it is recommended not to wear clothes with pockets on the chest, fabrics that catch chips such as woollens or certain textured fabrics. Closed shoes are highly recommended against chips, but also in case of possible falls of tools and pieces of wood. Tying up long hair is also recommended to avoid accidents.